Are you looking for the best Italian coffee brands? How about imagining a life without coffee?
Coffee has been a part of our everyday lives, whether at home or work. In some countries like Italy, coffee has been the most basic part of their culture. For Italian people, drinking coffee is almost like an art that they are always passionate about.
And coffee culture in Italy isn't like the ordinary because Italians follow customs and etiquette in drinking their coffee that the non-locals might find a bit hard to follow.
For example, coffee with milk or cream can be enjoyed any time of the day outside Italy. In fact, we can avail ourselves of any kind of coffee in a café whenever we want, but this isn't the Italian coffee culture. These kinds of coffee are preferably consumed early, far from lunchtime.
You can have your daily dose of espresso in the morning near the bar counters. Still, it's possible for foreigners to enjoy Italian coffee like locals in the comforts of kitchens. All you need is Italian coffee and a moka to brew them perfectly on your stove or a coffee machine.
Thinking of what Italian brands of coffee you should get? Here's our list of the best Italian coffee brands to help you out.
ALSO READ: Best American Coffee Brands to Perk You Up
10 Best Italian Coffee Brands
Here are the 10 top Italian coffee brands made in Italy.
1. Caffè Motta
Founded in the 1960s in Melfi, in Southern Italy's Basilicata region, Caffè Motta is now headquartered in Salerno, a port city southeast of Naples.
Caffè Motta narrates the story of the Mastromartino family, an all-Italian family that has united passion and experience to build an industrial reality that daily creates a coffee with an intense, sincere, and genuine taste.
Caffè Motta uses only 100% arabica blend in their espresso. There is no surprise it has this strong taste. In addition, they also produce a variety of coffee and pods.
2. Caffè Borbone
For almost 25 years, Caffè Borbone has devoted itself to preserving the centuries-old custom of authentic Neapolitan espresso while also looking toward the future.
Caffè Borbone Respresso Blue Blend is the company's signature product. It is composed of 70% robusta and 30% arabica, with the latter taming the bitter and robust flavor with sweet and delicate undertones. It is, therefore, ideal for those who prefer a full-bodied, strong-tasting coffee.
The good creaminess and a moderate amount of caffeine are due to the dominance of Robusta beans in this brew.
It's the best all-around mix available, and its natural sweetness may even help you come around to the bitterness of coffee.
3. Caffè Illy
Caffè Illy, founded in 1933 in Trieste, the capital of the Friuli-Venezia Giulia region, is an Italian coffee brand known all over the world.
Famed for its superior quality and velvety flavor, this blend of nine different pure arabica varietals is enjoyed by millions of people every day in homes, offices, restaurants, and cafés.
You can expect the most refined and tongue-tingling scents from Caffè Illy. You can't talk about winning pairings without mentioning the IperEspresso Illy Arabica Selection Brazil, a 100% arabica coffee with rich overtones of caramel, sweetness, and warmth.
The beans are sourced from the southeastern highlands of Brazil, where there is a pronounced contrast between wet and dry seasons, promoting lush plant growth. The mild roasting makes the flavor ideal for those with acid-sensitive taste buds.
4. Caffè Musetti
The company was founded in 1934 in Piacenza in the Emilia-Romagna region. Today, the company has a presence in 60 countries across five continents.
Quality is the first thing that comes to mind when we talk about Caffè Musetti. Musetti's delicious blends are the result of the dedication of the employees who share the same passion as the company owners.
With so many different options for blends, Caffè Musetti is sure to satisfy any palate.
5. Pellini Caffè
It was in 1922 when the Pellini family founded a coffee company in Verona, Italy, giving birth to one of the best Italian coffee brands. Like other companies in this list, Caffè Pellini is also being managed by the family's third-generation heirs.
The lengthy roasting process used to create Pellini Caffè's signature flavor profile is what gives the coffee its distinctively balanced flavor.
One of the greatest roasted beans comes from Pellini: the Espresso bar that has a balanced flavor and full-bodied consistency. A combination of arabica and robusta, with the proportions carefully considered to mitigate any overly bitter or sour taste.
Arabica's fragrant qualities and robusta's buttery goodness are both brought out to their fullest extent when roasted in a medium manner, meaning neither too long nor too hot.
6. Caffè Vergnano
Another Italian coffee brand that has been making the best quality coffee since the `80s in the Piedmontese town of Chieri is Caffè Vergnano, making it one of the oldest coffee roasters in Italy.
For four generations, the company has had this honored tradition of producing coffee using the slow roasting method. In this way, the unique flavor of each coffee bean is preserved.
Today, Vergnano is the sixth Italian coffee-making company to enter the retail market and is currently one of the most popular coffee brands in Italy.
7. Bialetti
Founded in Omegna, Piedmont, Antonio Bialetti came up with the brilliant idea of the Moka Express that revolutionized the way of making coffee in the comforts of home. This soon became a morning ritual for many generations of Italians. According to this study, 90% of Italian families own a moka pot made by Bialetti.
Espresso machines present a new challenge for Bialetti coffee, but the company is up for the task – thanks to their years of experience and attention to detail.
I Caffè d'Italia capsules set off a journey of the senses through the excellence of Italian espresso coffee, illuminating the regional variations in the preferences of Italians from the North and the South.
And in 2021, with a true love for the product and a thorough understanding of how it works, Perfetto Moka was born to become the Bialetti coffee for moka enthusiasts. Its grinding procedure was developed and fine-tuned specifically for the moka. Their coffee is 100% arabica.
8. Caffè Lavazza
Founded in 1895 in Turin, Caffè Lavazza is the first coffee brand to launch a revolutionary advertising campaign. Over the decades, it has become one of the top Italian coffee brands everyone loves.
This world-famous company has just made the decision to put its name and reputation in the social sector, taking on as its own the fight for better working conditions in coffee-growing countries such as Yemen and Cuba.
When it comes to their coffee, fans of milder brews will find a new favorite in Lavazza. The company created the Lavazza Dek Classico, widely regarded as the finest decaffeinated coffee. It is highly recommended since the method used to remove the caffeine from the mix doesn't alter the drink's organoleptic properties, unlike many other decaffeinated options on the market.
Coffee lovers who aren't fans of the stimulating element can still enjoy a high-quality blend of arabica and robusta beans that delivers a rich, well-rounded flavor. Its concentrated flavor and fuller, richer body that comes with a dark roast is just what you need to start your day.
9. Segafredo Zanetti Coffee
Founded in 1973 in Bologna by Massimo Zanetti, Segafredo Zanetti quickly became well-known in Italy, where it established itself as a market leader in the out-of-home consumption and mass retail sectors.
Segafredo Zanetti is now, without a doubt, one of the best espresso makers in Italy and the entire world. Their mission is clear: to disseminate the flavor, culture, and preparation of authentic Italian espresso by providing a superior product that is backed by a quality guarantee at every stage of production.
Segafredo Zanetti Coffee System has focused on mass-market product development up until this point, most notably with its 100% compostable Espresso Assoluto coffee pods. Segafredo coffee is a high-quality, environmentally friendly option for those who prefer strong coffee with complex, fragrant notes.
The Caffè Segafredo Zanetti brand is also highly recommended due to the excellent value it provides.
10. Caffè Corsini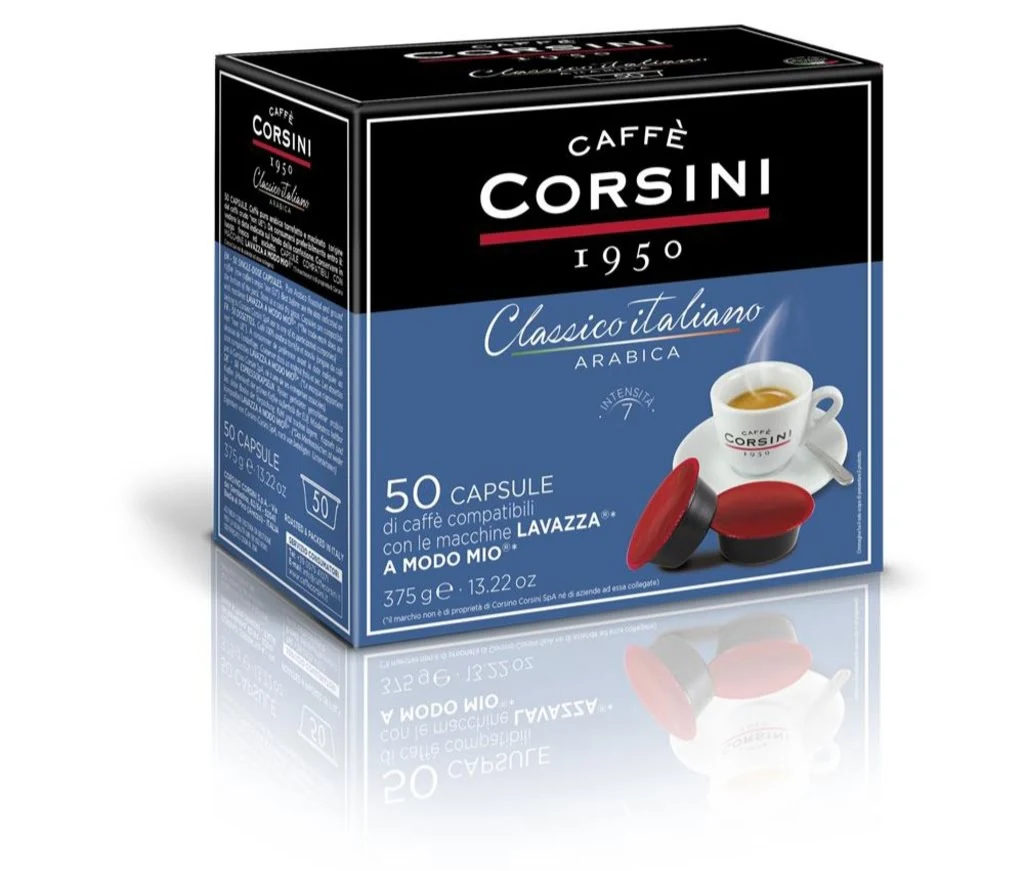 The outstanding quality of Caffè Corsini's coffee blends has made the company well-known throughout Italy and beyond.
Corsini, which was founded in Arezzo, Tuscany, 1950 by Corsino Corsini, began as a little artisan espresso lab and now makes coffee of the highest caliber with an emphasis on environmental responsibility.
Taste buds are blown away by the unique combinations of coffees created by Caffè Corsini, which carry on the heritage of making excellent Italian coffee.