Looking for the best Italian jeans brands?
If you're looking to buy Italian jeans for your next outdoor activities, this is the best post for you. We compiled some of the cheapest but most fashionable Italian jeans brands in the market that will definitely suit your fashion taste.
It's a known fact that Italian brands make some of the best products in the world, and these include denim jeans. The denim they use is often some of the best available anywhere, commanding a premium price from customers as soon as it hits the market.
Truth be told, no one makes jeans better than Italians. It's not just about the materials, either. Italy has a long tradition of producing fine clothing and shoes, and its craftspeople are among the best at what they do.
So, are you curious to know some of the top Italian jeans brands you can buy? Keep scrolling to find out.
Top 12 Best Italian Jeans Brands
Here's a list of the best Italian jeans brands for you to check out.
1. Re-HasH
First in our list of top Italian denim brands is Re-HasH.
Re-Hash is a sustainable denim company based in Milan, Italy, making recognizable clothing under the "Rethink-Recycle-Reduce" label. To save resources, it experiments with new sustainable materials and manufacturing methods.
All eco-friendly denim-label clothes are made in Italy. F.G. 1936, an Italian jeans manufacturer, owns the premium jeans brand. It prefers its controlled processing phases with high sustainability standards.
Only certified recycled materials, traceable throughout the supply chain, are used by Re-HasH. The brand also prioritizes internal welfare to ensure the safety and well-being of its employees.
Because of its sustainability, Re-Hash is one of the best affordable Italian designer jeans brands.
2. Gucci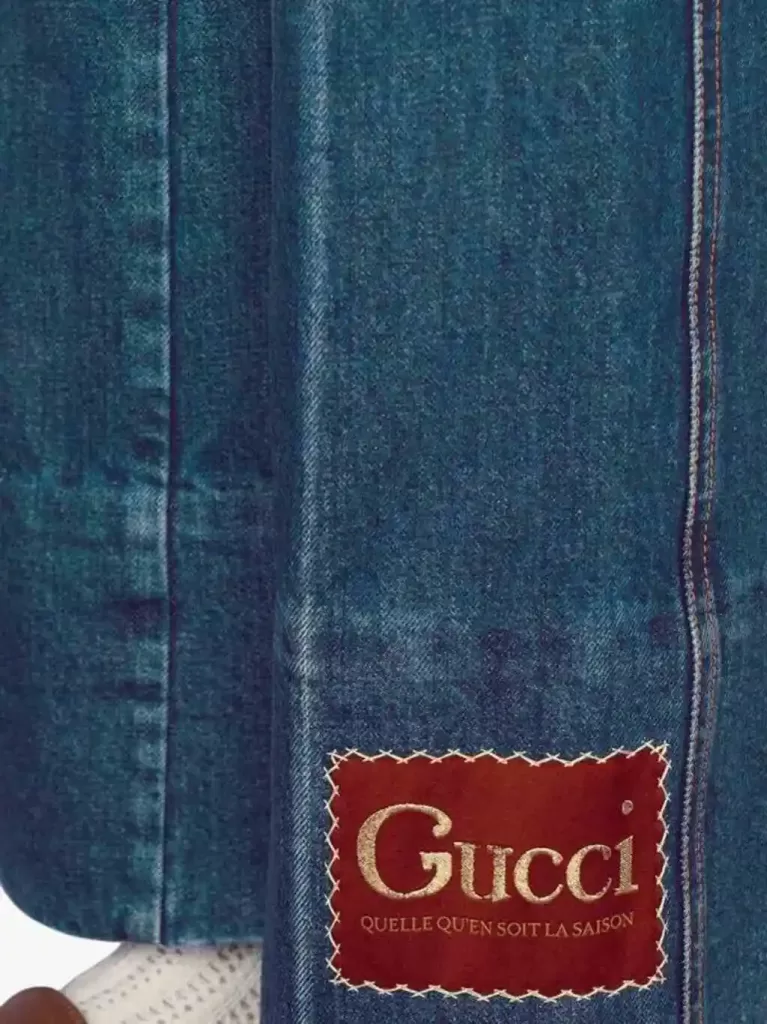 Gucci is a luxury fashion house based in Florence, Italy, that creates womenswear, menswear, shoes, handbags, and accessories. The designer label also produces makeup, fragrances, and home décor.
Alessandro Michele, Gucci's creative director, celebrates luxury with a modern approach to fashion. Sustainability is part of the brand's strategy as an ethical necessity and a driver of innovation.
The luxury label is known for its stylish and exquisite hand-finished denim jeans, dresses, handbags, and jewelry. It represents the pinnacle of Italian craftsmanship and truly one of the best Italian denim brands.
Gucci Equilibrium is the brand's commitment to bringing about positive change for people and the environment. Through activism, inclusivity, and accessibility, it envisions a new world with equality for all.
3. Bottega Veneta
Bottega Veneta is one of the most famous high-end Italian jeans shops in Italy, producing high-quality clothes for men and women, shoes, handbags, and other accessories. The designer company makes perfumes and jewelry as well.
In 1966, Michele Taddei and Renzo Zengiaro started a high-end business in Vicenza, Veneto. Today, the fashion brand is based in Milan where its headquarters are.
Bottega Veneta is all about luxury and craftsmanship that can't be beaten. Its collections include high-quality designer jeans made in Italy with a focus on individuality and new ideas.
The luxury label is a great place to buy classic and stylish jeans made in Italy. It sets a new standard for luxury, and its pants, dresses, handbags, and jewelry are known for being innovative and beautifully made by hand.
4. Diesel
In 1978, Renzo Rosso and Adriano Goldschmied founded Diesel, one of the most popular jeans brands made in Italy. The company is based in Breganze in the Veneto region. It sells Italian-made designer jeans, clothing, shoes, and accessories.
Diesel is committed to addressing the fashion industry's social, economic, and environmental impact. It uses natural materials like organic cotton and linen and eco-friendly materials like recycled cotton and recycled polyester.
Diesel's commitment to create eco-friendly denim that doesn't break the bank has made it one of the most affordable Italian-made designer jeans brands.
Diesel strives to reduce greenhouse gas emissions, plastic, water, and energy consumption across the board. It advocates for the environment and seeks less harmful alternatives for its products and packaging.
5. Armani
Giorgio Armani founded Armani, an Italian luxury fashion house based in Milan, Italy. It designs sophisticated ready-to-wear, haute couture shoes, jewelry, sunglasses, and other accessories.
Armani is not just a popular denim jeans brand in Italy but also across the globe.
Giorgio Armani creates designer denim jeans for women, men, and children by combining creativity, artisanship, experience, and the finest materials. It withstands the test of time and evolves into the ideal synthesis of creativity, style, and innovation.
The Armani Group is dedicated to sustainability in its community, supply chain, and environmental practices. It believes that sustainability entails making good decisions today for future generations.
6. Jil Sander
Jil Sander is hands down one of the most popular jeans brands made in Italy.
Jiline "Jil" Sander, a German fashion designer, started the high-end fashion house Jil Sander. The brand makes simple, high-quality, and beautiful denim jeans for both men and women. It is based in Milan, Italy.
Jil Sander+ is a line of clothes made by the label in collaboration with Uniqlo. Since 2009, Jil Sander has worked on and off with Uniqlo to make new clothing lines.
The clothes by Jil Sander are easy to spot because they have simple shapes and soft colors. The brand's fall, winter, spring, and summer clothes can be bought online or in stores worldwide.
7. GAS
GAS started out as a family business until Claudio Grotto began to design his own pieces in the early 1970s and became part of this Italian denim jeans brand. He founded GAS in 1984 and got the idea for its logo – a double rainbow – while traveling in South Africa.
GAS has always been about denim for everyone, with a particular emphasis on functionality and innovation.
The Artisanal Room is the company's own lab where new patents are created, such as the first "heat-sealed" jeans and the Reverse Denim, the 100% reversible jeans.
8. Replay
This fashion label debuted in 1978, but despite its association with denim, it initially focused on casual clothing and shirts.
The name reflected the company's goal of looking to the past to inspire current trends.
Replay's first jeans hit the market in 1989, thanks to an innovative fabric called "Double Ring Denim," which the founder discovered in Japan.
Replay expanded into other lines such as children's clothing in the 1990s, followed by footwear, jewelry, and perfumes.
After a brief hiatus in 2009, Replay relaunched with significant partnerships such as that with Ajax FC, a theatrical flagship store in Milan, and new innovative denim, Hyperflex+.
Today Replay remains one of the most popular Italian denim jeans brands in the global market.
9. Freddy
"Freddy" is an Italian reality show founded in 1976 by Carlo Freddi, hence the name. This label began as a dance shoe company. It then capitalized on the aerobic boom of the 1980s with a successful line of sporty clothing.
Freddy is built around freedom and movement; it is well-known for its trendy sportswear and dance gear, as evidenced by several prestigious sponsorships with Italian and international dance associations.
Freddy's jeans feature Italian craftsmanship and high-tech fabrics that are as light as a feather and capable of hugging any shape, stretching, and following the body everywhere.
10. LIU•JO
LIU•JO is a well-known Italian prêt-à-porter label frequently featured in fashion magazines.
This family and in-house business was founded in 1995 in the Emilia-Romagna town of Carpi, part of the Modena province, by brothers Marco and Vannis Marchi.
LIU•JO's popularity and sales have skyrocketed since its debut, first in Italy, then Europe and Asia.
It made its big TV debut in 2008 with a pair of jeans called the Bottom UP.
LIU•JO provides an entire wardrobe from head to toe, and #Glamourizing is its take on fashion and femininity: personal, natural, and glamorous.
11. Dolce & Gabbana
Dolce & Gabbana takes us to the pinnacle of Italian fashion. Domenico Dolce and Stefano Gabbana, a designer duo from opposite sides of the country, founded their brand in 1985.
Due to their limited resources, their first catwalk featured real women (rather than professional models), but success took work.
Their fourth collection succeeded. Since then, the brand has left an indelible mark in the market due to its theatrical personality, luxury, and the typical Sicilian explosion of colors and decorations.
The D&G mood board is inspired by Dolce's hometown of Sicily and Mediterranean femininity.
12. Versace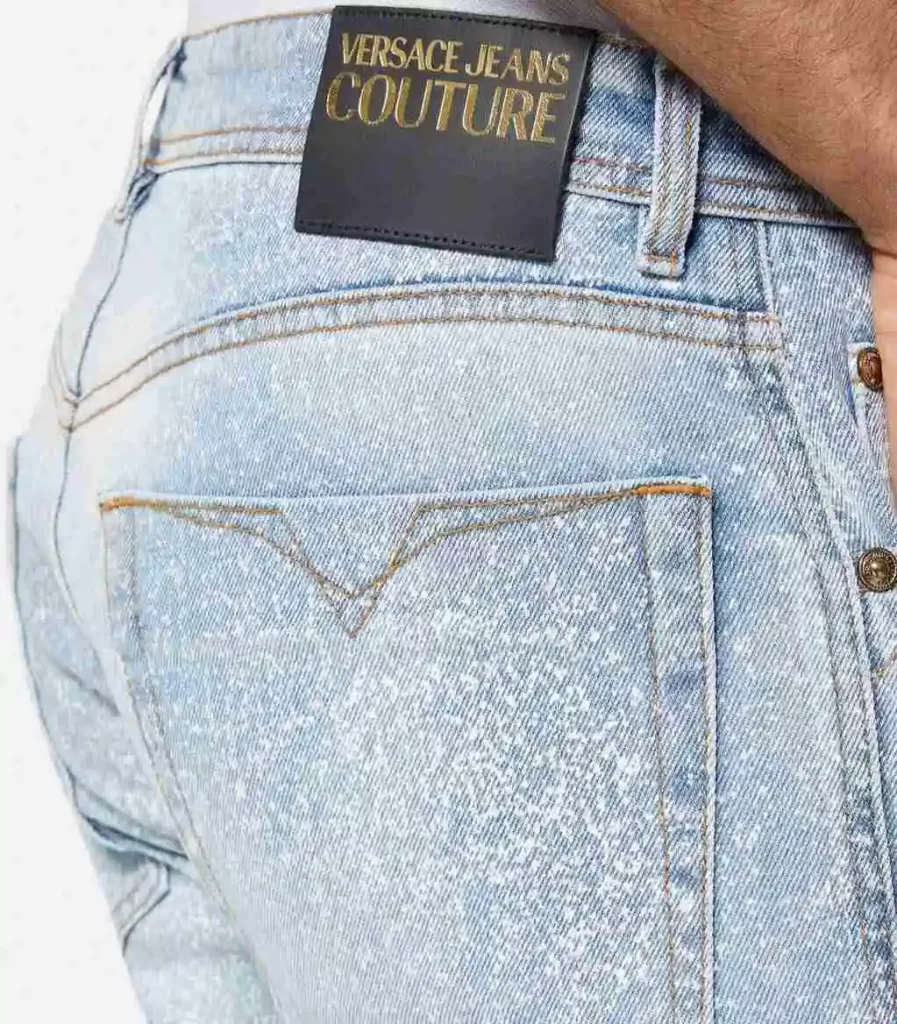 Italian fashion designer Gianni Versace founded his eponymous luxury fashion house in 1978. The brand produces high-end designer denim jeans, fashion clothing, and accessories for women, men, and children in Italy.
Versace is among the most well-known Italian jeans brands; it is also one of the most environmentally friendly. It extensively uses environmentally friendly materials such as organic cotton, linen, and recycled plastic. It manufactures its collections locally in an innovative way that adheres to strict sustainability standards.
Versace recognizes the responsibility that we all bear as global citizens. It strives to be more environmentally friendly by implementing water-saving and recycling initiatives.